New opening: Rioca Vienna Posto 1 opens its doors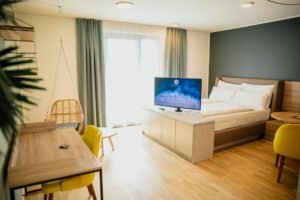 i Live has launched its first serviced apartment brand, Rioca by i Live, and today opens the doors of Rioca Vienna Posto 1 at Dresdner Strasse 109 in Vienna. Rioca's offer is aimed at young professionals, commuters, students and tourists.
190 serviced apartments
Contactless Self-Checkin
Rooms up to 54m²
Stay possible from 1 night up to 12 months
For the guests of Rioca 190 fully furnished apartments between 31m² and 54m² are available. Whether a city trip with friends and family or a longer stay for students, Rioca's offer is suitable for all.
The apartments are equipped with a rain shower, a private kitchenette including kitchen utensils, balcony and SmartTV. The community area features a spacious breakfast area and co-working spaces, as well as a bar stocked with Brazilian cocktails and founder Amos Engelhardt's favorite wines. The rooftop terrace is perfect for enjoying the sunset in a beach chair.
Rioca by i Live – celebrates the joie de vivre and hospitality of the Cariocas, the people of Rio de Janeiro. Brazilian playful, colorful, cheerful and informal is the atmosphere at Rioca. Everywhere you will find genuine Brazilian details that have been hand selected and come directly from Brazil.
Inspired by the Brazilian spirit and the hospitality of the Cariocas, Rioca wants to offer its guests a home away from home.
More information about Rioca at: www.rioca.eu or on the Instagram account @rioca_by_i_live